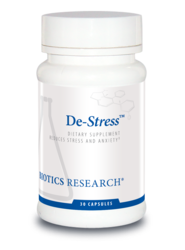 Such a beautiful chill pill! De-Stress promotes, calming and relaxation without making you feel tired or fatigued at all. It also does not contain any type of nutrients that promote activity within the Neuro transmitters, this is super safe and effective for absolutely anyone and can be taken any time of day for ongoing stress management. 

De-Stress™ supplies a patented, all natural, bio-active peptide (derived from milk), which has anxiolytic (inhibits anxiety) activity. In other words, De-Stress can be used to reduce stress and anxiety! De-Stress is clinically proven to be effective.
Dosage: 
One (1) capsule each day as a dietary supplement or as otherwise directed by a healthcare professional. De- Stress™ can be taken during the day at time of intense stress, or before bedtime.
Active Ingredients: 
De-Stress™ hydrolysate† (as hydrolyzed casein concentrate). Contains ingredients derived from milk. †De-Stress™ supplies a decapeptide, as determined by its amino acid sequence, having anxiolytic activity‡. Patent # 5,846,939. ‡This statement has not been evaluated by the U.S. Food and Drug Administration. This product is not intended to diagnose, treat, cure or prevent any disease.
Other Ingredients: 
Capsule shell (gelatin and water). This product is gluten free.
Awesome, awesome, awesome! This is definitely a must have when life seems chaotic.
Noticeable difference in stress levels
The best thing about this product has been you don't feel like you've taken anything but you feel more relaxed. I find myself having more focus on tasks at hand.