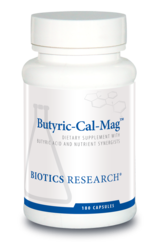 The item is currently out of stock. The Biotocs Backorder is projected to be released by the end of September. You can preorder and it will ship as soon as I receive the inventory. 

Butyric-Cal-Mag™ supplies a supplemental source of butyric acid (as calcium & magnesium butyrate), the primary fuel of colonic cells. Butyric acid is a naturally-occurring 4-carbon fatty acid formed in the healthy colon from the fermentation of dietary fiber by friendly bacteria.
Dosage: 
One (1) to two (2) capsules with each meal as a dietary supplement or as otherwise directed by a healthcare professional.
Active Ingredients: 
Butyric Acid, Calcium, Magnesium, Panthothenic Acid, Vitamin A
Other Ingredients: 
Ethyl vanillin (flavoring) and capsule shell (gelatin and water).