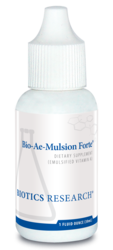 Bio-Ae-Mulsion Forte® supplies a concentrated source of Vitamin A in an emulsified form, to assist with uptake and assimilation. It may be used in cases of vitamin A need. Each drop supplies 12,500 IU of vitamin A as palmitate.
Dosage: 
One (1) drop each day as a dietary supplement or as otherwise directed by a healthcare professional.
Active Ingredients: 
Vitamin A (as palmitate). Bio-Ae-Mulsion Forte® is an oil-in-water emulsion. Vitamin A oil has been dispersed into microscopic particles to aid absorption and assimilation.
Other Ingredients: 
Water, gum arabic, sesame seed oil and d-alpha-tocopherol (as an antioxidant). This product is gluten and dairy free.
Great Product and FAST shipping!
I am so impressed with the Bio-Ae-Mulsion Forte - I started to take it to help boost my immunity and as a plus I got a little energy from it as well.