Complete 14 Day Detox Program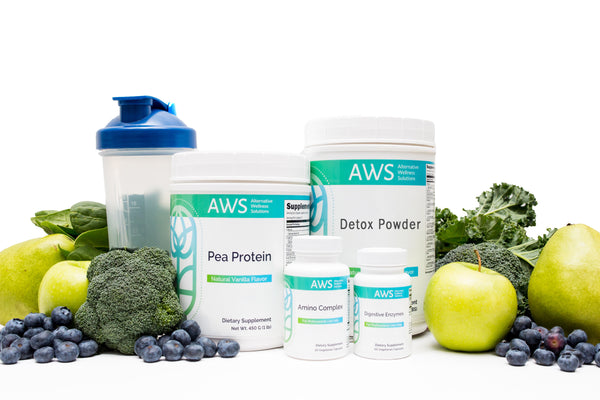 Complete 14 Day Detox Program
Are you ready to hit the reset button!?! This thorough detox will not only purge toxins from your cells, but also help you get on the right path to a healthier lifestyle. You will have clear guidelines to follow including how to incorporate the detox shakes and supplements, food lists and snack suggestions, smoothie recipes, a sample meal plan, detox tips and more.
Expect many positive changes! By eliminating your toxic load, expect to feel lighter, gain mental clarity, experience improved moods, improve digestion and GI function, clear up skin issues, lose some inches and lbs and so much more! 
The AWS 14 Day Detox Comes with:
1 canister of AWS Detox Powder
1 canister of highly absorbable, sugar-free & delicious vanilla AWS Pea Protein powder 
1 bottle of AWS Amino Complex capsules to assist in proper detoxification and elimination of toxins
1 bottle of AWS Detox Enzymes capsules to ensure absorption of protein, ward off uncomfortable detox and digestive symptoms & support gallbladder function to improve liver health and detoxification. 
Program Guidebook with step by step directions & guidelines 
Shaker Bottle for mixing your shakes
Instructions:
You will replace two meals per day with a protein shake made by combining the two AWS powders 
Your third meal will consist of healthy foods defined on the approved food list, anyone will be able to adhere to the recommendations regardless of dietary restrictions or preferences, whether you are a vegan or a caveman! 
Approved snacks are permitted, a list is provided for you
You will take the Amino Acids upon rising and before bed
You will take the Digestive Enzymes with each meal
14 Day Liver cleanse
In the past couple of years, I've had several surgeries I have never done a liver cleanse. This liver cleanse has given me a lot of energy and I sleep better. I've always had these little bumps on my arms and a couple on my face, and I have noticed those are gone. The best part of the liver cleanse is I don't wake up with headaches every morning that I have done for years. It also seems like I get a lot done around my house because of the energy!!!! Thank you Krystal for introducing me to the 14 day liver cleanse.
Best Detox Ever!
Yep, best detox ever! The flavor is very very very good (and i am not a fan of vanilla!) - right away will sooth your stomach, like puts everything into "place", and i mean everything - it's like it brings peace to your stomach and heals it at the same time.
The first fast reaction is that if you suffer for any bloating it goes away (be due period or food)